Biography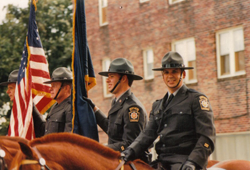 Personal
Resident of Lower Paxton Township with wife Kathy and twin children.
Professional
---
2012 – Present
Court Security Officer, Deputized by the U.S. Marshal's Service
Pennsylvania Middle District, U.S. Federal Building, Harrisburg
Provide courtroom security to Federal Judges
Search and screen search public entering Federal Courthouse for prohibited items
Assist U.S. Marshal's with movement of prisoners within courthouse
---
1985-2012
Pennsylvania State Police
---
2011-2012
Supervisor – Bureau of Gaming Enforcement – Hollywood Casino at Penn National
Supervised eight Criminal Investigators
Monitored surveillance cameras and criminal activity within the casino
Provided daily protection/monitoring of $15 million in U.S. Currency transfers
---
2005-2011
Supervisor – Criminal Investigation Unit, Troop H – Harrisburg Station
Supervised six Criminal Investigators, 40 Patrol Troopers, and Staff
Daily shift supervision, performance evaluations
Directed high profile criminal investigations and confidential Internal Affairs Investigations
Conducted daily Criminal Intelligence thru briefings to Troopers and local police departments including tactical planning, security and safety briefs
Transported and relayed prisoners throughout Pennsylvania and neighboring states
---
2005
Patrol Unit Supervisor - Troop H – Harrisburg Station
Supervised 40 patrol Troopers
Daily shift supervision, roll call and annual performance evaluations2002-2005 Detached to Federal Bureau of Investigation, Joint Terrorism Task Force – Harrisburg
---
2002-2005
Detached to Federal Bureau of Investigation, Joint Terrorism Task Force – Harrisburg
Led and managed Terrorism investigations with Top Secret Clearance throughout Pennsylvania
Assisted U.S. Marshal's with prisoner transports in and around the Federal Buildings
Worked with U.S. Attorney's Office with preparing affidavits, search warrants and activity reports
---
1992-2002
Investigator – Bureau of Criminal Investigation, Central Intelligence Unit – Harrisburg
Conducted and assisted in hundreds of diverse criminal and drug surveillance investigations throughout Pennsylvania including homicides, narcotic ring, organized crime, terrorism, wiretaps, Republican National Convention, protests and high profile investigations
---
1986-1992
Patrol Trooper, Troop H - York Barracks and Troop J - Avondale Barracks
---
1985
State Police Cadet, graduate of 61st PSP Academy
---
Training and Ongoing Education
Participated in more than 93 extensive Training and Development programs throughout the United States while assigned to the Bureau of Investigation, conducted by: FBI, Department of Homeland Security, Drug Enforcement Agency, FEMA, U.S. Naval Academy, U.S. Marshal's, PA State Police, Maryland State Police, New Jersey State Police and others.
---
Commendations and Awards
Recognized and received Commendations thirteen times for outstanding performance by the FBI, U.S. Attorney's Office, U.S .Naval Criminal Investigative Service (NCIS), PA State Police, Reading Police Department and others.
---
Community Involvement
Big Brothers/Big Sisters – Volunteer of the Year Award by United Way, City of York and Governor Casey - 1990
Hosted Foreign Exchange Student from Italy for one year – 1992
Community Service Award from Arms around the Community, Lower Paxton Township – 2009
Current volunteer for Little League Baseball and Football in Lower Paxton Township
---
Interests
Nick has a passion for the great outdoors and loves hunting, fishing, boating, camping, exploring the Moshannon State Forest, and the Susquehanna River with his family. He loves the culinary arts and enjoys cooking for others after learning Italian recipes and secrets from his mother. Nick is an avid boxing fan and has been since the age of three years old. Nick's father was a professional boxer in the late 40's, early 50's and enjoys his father's vintage boxing memorabilia and photo collection.